Stripe is online payment processing software that is popular due to its ease-of-use in development and robust security. Some Gladly customers like to use it to conduct payments for their online business. Fortunately, integrating Gladly and Stripe has never been easier thanks to Zapier.
This tutorial will lead you through the process of connecting Stripe to Gladly so that every time a Customer sends a payment using Stripe, the details are posted to the Customer's timeline for Agents to see.
To successfully complete this tutorial, you will need:
If you're new to Zapier, don't worry! Zapier provides a wonderful guide on how to get started creating Zaps.
For the first Action of your new Zap, search for and choose Stripe as the App and "New Charge" as the Trigger Event.
You will need to connect to your Stripe account before moving on to the next step.
Hint: Don't forget to give your Zap a descriptive name!
Choose "Create Item" as the Gladly Action Event. This will create an item in the Customer's timeline.
Authenticate: At this point, you will be asked to authenticate with your Gladly account. This is where you need your Gladly username and API token. If you need help generating an API token, check out the developer docs.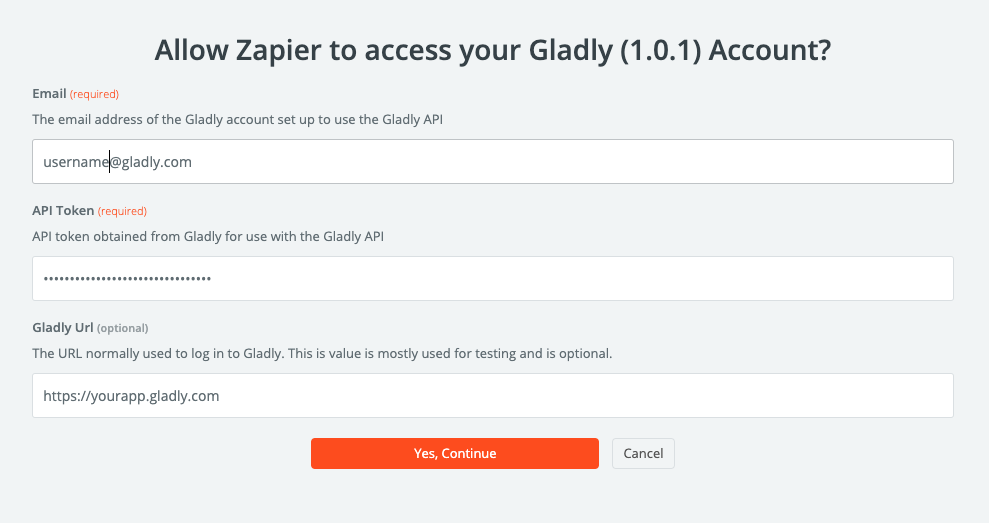 Now you can customize how this Stripe charge will appear in the Customer's timeline.
Customer Email Address: Select the Receipt Email from the Stripe charge to link the event to the right Customer in Gladly.
Content Body: It is recommended (though not required) to supply additional information from the Stripe charge here that might give more insight to Agents looking at the event in the Customer's profile.
Content Activity Type: Type "EMAIL" to make the icon next to the Customer Activity in the Gladly timeline show up in a way that makes sense to the Agents.
Content Source: Type "Stripe" so that the Customer Activity will indicate that the payment came through Stripe.
Content Link Url: Add the Receipt URL from the Stripe charge to provide a link back to the Stripe charge from Gladly.
Content Link Text: Type words that will hyperlink to the URL you added in "Content Link Url".
You're all done with setup! How easy was that?
Make sure to test your Zap by creating a test charge in Stripe with an email address connected to a profile in Gladly. Next, go to that Customer's Gladly profile and find the Stripe charge in the Customer's timeline.
You can also check that everything went through your Zap on Zapier by going to the Task History menu.